Do you accept credit cards?

Sorry we don't accept credit cards. Most credit card companies are situated in the USA and they prefer not to have relationships with progressive companies. CC companies are consumer reporting companies and we dont like that. Our apologies for the inconvenience. We offer a much better solution to credit cards: secure, anonymous and no traces: Bitcoin! You can buy bitcoins with your credit card and the use your bitcoin wallet to make a payment. Bitcoin payments are fast (just a few seconds), cheap and secure.
The following payment services are not available for use:
PayPal, Transferwise, Transfergo, Azimo, World First, HIFX, RIA, Xoom
---
Bitcoin payments
Bitcoins are a completely digital currency - customers can send bitcoins using client software on a personal computer, mobile device or web application. Bitcoin payments are easier to make than debit or credit card purchases - simply enter the recipient's address, the payment amount and press send. You as a customer are in full control of the transaction; it is impossible for us as a merchant to force unwanted or unnoticed charges. Bitcoin payments can be made without any personal information ti...
READ MORE
---
BANK TRANSFER
When ordering and selecting payment method bank transfer you will receive an email with the bank details.
Bank transfers need to be made with the OUR instruction which means you pay for the bank fees. EU-payments in EUR may be made with SHA instruction.
Please don't forget to mention your full name and order code. For the sake of discretion, do not mention any product or website names in the comment section.
Note to all Swedish, Danish, Norwegian and out of Europe customers: we cannot process payments via Scandinavian and some other online banks. Please choose another payment method or contact our Customer Service to request international bank account information.

Please note that it can take a few business days before we receive the payment on our account. A SEPA bank transfer (within the European Union) should be free, but some banks may charge you if the information is not filled in correctly. If you're not from the European Union and/or there are costs involved, make sure you pay for the total cost of the transfer.

UK customers who don't want to be charged excessive bank fees also have the option to pay with Global Web Pay. Please don't forget to mention your order number in the GlobalWebPay payment reference and make sure to send us an e-mail with the amount you transferred in euros!
Alternatively you can choose to use an international payment service.
Transferring money from your bank account is often thought to be the fastest and most convenient way to make a payment for your purchase. But, did you know that there are several international companies offering cheap international bank transfers, saving you money on ribald service fees that your own bank might normally charge for it?

This particularly applies to customers outside the SEPA (Single Euro Payments Area)/Eurozone - and the best part about those companies is that you are not even obligated to have an account with them. Your order will be shipped out immediately after your payment has been received and processed. Check out this list of international money transfer companies:
Stop overpaying when sending money abroad!!
Find the cheapest provider for your next transfer
Save on fees, obtain the best exchange rates and find the cheapest transfer provider with our real-time comparison engine.
---
Cash money
Please send the payment along with your full name and ordernumber in a registered envelope.
Find a sturdy envelope and a postcard (Happy Birthday for example)
Write down your order number only. No other information can be written down
Do not use any coins. If you pay more then the actual amount of your order, we will put the change into your package (everything above EUR 1,00), or we will compensate in the form of products (usually worth more than cash).
Payments in EUR, USD and GBP are accepted, but add 10% extra for our exchange costs!
Place EUR, GBP, or USD bills in the postcard, and hide the bills in aluminum foil (use www.xe.com for conversion to EUR)
Put some stamps on the envelope
Close the envelope with tape, so that it is difficult, or even impossible for a third person to open and close it without being noticed!
Please send the payment together with your full name and order code in a registered envelope to: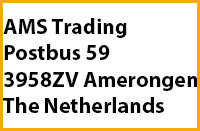 Within Europe it usually takes 3 to 5 business days to arrive.
From outside of Europe it usually takes 5 to 10 business days.

We will ship your order within 1 business day after receiving your payment. You will be notified by email.

Afraid of losing your money? Post is pretty secure, but you can choose to send your payment by registered mail. In general 99% of unregistered mail arrives just fine.